As everyone knows, in 2010, the Padres won 90 games. On the field, I-scored-more-than-you wins. But according to the sabermetric number crunchers at Fangraphs, the Padres, as a team, were worth 39.9 wins. These 39.9 wins break down to 16.1 wins from the pitching staff and 23.8 from the offense. Go with me, for a second, when I say that the 2011 team, in order to approach the success the 2010 version had, will have to do their best to replace those wins. That leaves out a bit of nuance but like I said, go with me. And while the pitching staff has some new faces, the star attractions are all returning, making it easier to assume that they'll do what they did. The offense, on the other hand, is another story.
Starting at the top, the Padres are going to have to find a way to replace Adrian Gonzalez's production. Brad Hawpe and Jorge Cantu have been brought in to field his position but it's unrealistic to expect them to replace what Adrian can do with the bat. To do that, everyone on the team is going to have to do their part. In 2010, Adrian was worth 5.3 wins. Let's cut him a little slack (he was injured, after all) and say that, to replace Adrian, the team is going to have to create an extra 5.5 wins in 2011. This should be a challenge, as everyone will have to take on extra production, so I've created a handy guide to help everyone know what should be expected of them.
First base
2010 total: 5.3 wins
2011 expectation: 4.5 wins
As good a place to start as any. Like I said, this position has fallen to Cantu and Hawpe, who won't match Adrian's production. It just won't happen. However, if the two can combine for 4.5 wins, that'll be good enough. Working in their favor is the platoon they're expected to see. Combined, taking Hawpe's numbers versus right-handed pitching and Cantu's numbers versus left-handed, the two have an .867 OPS. The man they're replacing has a career .875 OPS, but his has the PETCO mark already on it, a mark that will surely bring down Hawpe and Cantu. Let's hope it doesn't bring them too far down.
Just as the two new first basemen won't be replacing Adrian offensively, it's doubtful they'll be able to replace him defensively either. Hawpe, in particular, is an enigma, having logged only a handful of big league innings at first. He could be a disaster, or he could be a discovery. For the sake of assumption, I'll say he splits the middle and is average. If he is, and these two can reach four and a half wins, the team should be sitting pretty.
Second base
2010 total: 2.7 wins
2011 expectation: 3 wins
Last season, second base was a two man job. David Eckstein and Jerry Hairston, Jr. took turns manning the position, with Eckstein doing most of the heavy lifting (2.0 wins). This year, the Padres have taken a more efficient route and given the job to one man: Orlando Hudson. In three of the last four years, Hudson has hovered around 3 wins, thanks in large part to his bat. Since trading in the astroturf of the Rogers Centre for the natural stuff, Hudson's glove hasn't been as sterling as the reputation that precedes it. But in 2010, he tried something different, as his bat fell to league average (98 wRC+) and his glove picking up the slack (+9.8 UZR). I don't care what path Hudson takes in 2011, just as long as he makes it to the three win mark.
Shortstop
2010 total: 2.2 wins
2011 expectation: 2.5 wins
At the time, I wasn't crazy about the Miguel Tejada trade but he proved to be a valuable addition to the team, accumulating 1.4 wins in his two months with the team. But now he's off to San Fran, with Hairston, Jr. in Washington and Everth Cabrera in flux, so the team turned to Jason Bartlett to man the position in 2011. Just like his new double play partner Hudson, Bartlett has been a a model of consistency over his career. Take a look at this graph: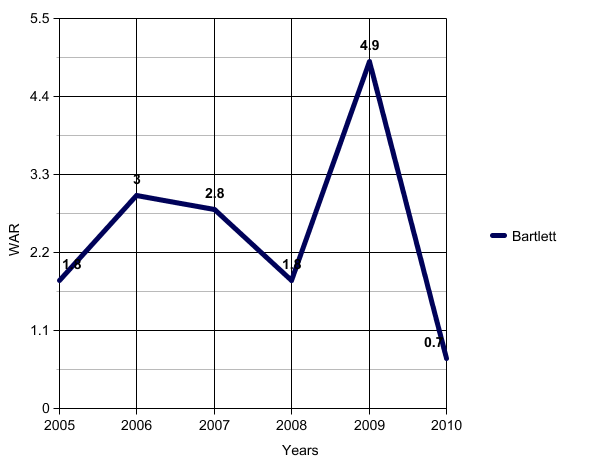 With the exception of that hiccup in 2009, Bartlett's WAR has been declining steadily every year. It's been a two-pronged attack, with Bartlett's offense and defense both fading, and it's a trend he's going to have to reverse if he's going to be a contributing member of the Padres in 2011. Ignoring 2009, Bartlett hasn't been worth 2.5 wins since 2007, his last year with the Twins, when he was worth 2.8. He needs to figure out how to get back there (maybe he should rent The Bourne Ultimatum to get him back in a 2007 state of mind) if he's going to meet expectations.
Third base
2010 total: 4.6 wins
2011 expectation: 3.5 wins
After two miserable seasons in left field, Chase Headley finally moved back to third base in 2010 and he was a revelation. Both UZR and DRS agreed that Headley was the best defensive third baseman in baseball. His glove, combined with his average bat, pushed Headley to 4.6 wins, second highest on the team. Expecting Headley to repeat his 16.5 UZR is unfair, both regression and precedence would like a word, but there's more than enough room for his bat to chip in this year. I'd say that 3.5 wins is a fair expectation for Headley in 2011.
Left field
2010 total: 0.1 wins
2011 expectation: 3 wins
You're reading that right. Sort of. With Ludwick moving to left for 2011, I've grouped his numbers in with the position for 2010. His defense will probably improve moving away from right, but whatever. You get the idea.
Anyway, you're reading that right. Left field was a black hole for the 2010 Padres, with Scott Hairston and Ryan Ludwick as the main offenders. Ludwick was especially awful. It might be unfair to say but had Ludwick even been an average player after coming over from St. Louis, the Padres would've made the playoffs. Fortunately, Ludwick has all of 2011 to make amends.
Truth be told, expecting three wins out of Ludwick seems like a lot. Outside of his Bartlett 2009-esque 2008, Ludwick has steadily held near 2 wins a year. This season, however, Ludwick will be the highest paid non-closer on the team in a contract year. If there's ever been a time to ball out of control, it's now (and by that, I mean when the team desperately needs him to).
Centerfield
2010 total: 3.5 wins
2011 expectations: 2 wins
Oh AJ, I still can't believe that you are gone. It was only a couple of months ago that you were covering centerfield in PETCO with the grace of a gazelle. To think that they replaced you out there with Chris Denorfia, then pushed you out the door. Los Angeles doesn't know how lucky they are to have you.
In all seriousness, Denorfia and Tony Gwynn, Jr. were a fine pairing. Norf was a bungler out in the field but he could hit, while the opposite was true of AJ. They split the 3.5 evenly (1.8 for Norf, 1.7 for AJ) but now AJ's a Dodger and Norf's back to being a fourth outfielder. In their place is Cameron Maybin, the former prodigy who was acquired for relief pitching depth.
Two wins is a lot to ask of Maybin, as he's never been worth more than one in a season, but he's never had more than 322 plate appearances in a season either. This year, in San Diego, he's going to be the man. He's still got a ways to go offensively, and PETCO won't help him, but AJ was an automatic out and he did alright. Center field's a defensive position and if Maybin can accelerate that part of his game, he might be able to reach my expectations. And if not, I guess there's always Inspector Clouseau.
Right field
2010 total: 2.5 wins
2011 expectation: 3 wins
Will Venable seems to be a player perpetually on the verge of breaking out. He's got a great combination of speed and power, with a half-decent eye to boot. Unfortunately, he strikes out like crazy and that cuts the legs out from under his stats, if only partially. If he can start making better contact, and work on being a bit more consistent from week to week, Venable will have a great bat to pair with his already impressive glove.
But let's start small. Let's go for 3 wins in 2011.
Catcher
2010 total: 3.9 wins
2011 expectation: 2.5 wins
At 2.4 wins, Yorvit Torrealba ranked fourth on the Padres offense, behind only Adrian, Headley, and Venable. But an impressive season led to an impressive pay raise and he took his talents to North Texas, leaving young Nick Hundley to become a man. With Gregg Zaun grizzling behind him, it'll be up to Hundley to carry the position in 2011.
As I've been over before, Hundley has an undeservedly bad reputation in Padres circles. No one will ever mistake him for Brian McCann, but Hundley is the kind of player who won't do anything to hurt you. As his playing time's increased, his WAR has along with it, topping out at 1.5 wins last season. Now that he's set to take over, it's not outrageous to think that his WAR will inch even closer to 2 this season. With Grizzly Adams backing him up, and pitching in a couple of wins in himself, I see no reason why this team's catching squad shouldn't be able to do it's part in 2011.
So there you have it. I think that comes out to 24 wins, a nice even number (that doesn't include backups or awful hitting pitchers). If everything goes according to the plan I just laid out, this Padres team should be back in the hunt in 2011. Adrian Gonzalez was a loss, no doubt, but Jed Hoyer did a good job of taking that mountain back down to a molehill.
Posted in statistics |
8 Comments »